Chandra Consulting Storyteller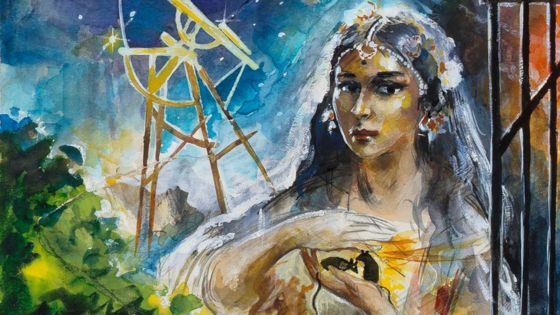 Chandra is the central character in the book trilogy 'The Heartstone Odyssey' by Arvan Kumar. She is also one of the key driving forces behind Heartstone, which aims to bring her empowering character and her vision to life through the many facets of its work. She is a classically trained Indian dancer who has gone on to develop her own style to tell modern narrative pieces, she is truly passionate about her art, her expression and her storytelling.
Chandra is an early immigrant to the UK, who came to London from India as a child and really felt the experience of prejudice at a time when it was poorly challenged. Chandra is someone who, through no fault of her own, gets caught up in world events and a prophecy fulfilled across generations and centuries, and whilst she becomes increasingly accepted, she wants this to be for what she says, not where she comes from and what she carries with her as a result.
Chandra finds great inspiration in the Sherlock Holmes stories and really identifies with Sir Arthur Conon Doyle's character of being someone who did not quite fit into any of the standard paths in life. In the same way Sherlock created his own profession of Consulting Detective, Chandra decided to invent a new profession for herself; Consulting Storyteller.
On a mission to fulfill her Consulting Storyteller role, Chandra wants to create an inspiring and magical experience from a stage, and after obtaining all the resources necessary she is able to this on an epic scale at some of the largest venues in the world.
Like Sherlock Holmes, Chandra turns down distasteful or frivolous clients and will not tell stories for those she doesn't agree with. However in the third book of the trilogy, Chandra takes commissions from various clients including leaders, politicians, campaigns, communities and individuals and tells stories that need to be heard. This was Chandra's way of contributing towards changing the world for the better.
Chandra takes an amazing journey from an isolated young Indian woman who receives threats and was initially turned away from performing at a community theatre in East London, to a figure who from the stages of the world is a voice for people from presidents and prime ministers to the suffering and the oppressed, for those who want to share their identity and treasures and also for the natural world and the environment that cannot speak for itself.
Chandra wants a place in the world which accepts that someone's profession in the arts can also have an identity at the heart of current issues, not just as a performer who comes to help during their performance, but as someone who is there all the time.
Chandra in the books becomes a force for good and an inspiration for others to follow her. She is the inspiration for Heartstone the organisation to also follow in her footsteps and bring the Consulting Storyteller to life in this world.